Last Updated: July 30th 2020
Look no further! Through extensive research, we have generated a list of the 22 best Instagram content editing apps in 2017. You will now have all the tools you will need to take breathtaking photos and create mesmerizing movies.
The beauty of Instagram is that you do not have to be a professional in order to create professional-quality content. With simply a smartphone, anyone with a desire can create compelling content within minutes. However, creating the perfect photo is an art and does take skill, but with enough repetition, you will become a van Gogh in no time.
The Best Content Editing Apps for Any Social Media
This content editing app is an absolute powerhouse when it comes to creating the perfect photo. It's easy to use and there is a multitude of content editing functions available. For example, the user can alter the exposure, contrast, and saturation levels of your photo, in addition, sharpen, crop, tint, and control the temperature and grain of the image.
VSCO offers an Exposure Tool that is essential to bring those dark shadowy photos to light. However, one of the key features of this application is its abundance of filters. Finding the perfect one for each photo will be exciting and experimental. Get Creative and do not be afraid to throw in some personal flare.
This photo editor is simple and easy to use to add a wide variety of text to your images. In addition, you can crop, change themes, add in other images and use filters do bring your content to life. I personally love using Phonto, I use this for all my motivational quotes post on my accounts and the best part its FREE! My favorite font is Ostrichsans-Heavy.

Remix your favorite photos from your camera roll or take a spur of the moment shots with the built-in photo booth. This content editing app developed by the Instagram Team lets you create a wonderful collage with your photos to share a small story, create a connection or share a moment.
4. BLACK
Prior to their updates, Instagram had a wonderful black and white filter called Gotham. Unfortunately, they replaced it with lesser noir style filters like Inkwell and Moon. However, the iOS-only app BLACK is a fantastic black and white photo editor. The app tries to emulate black and white style films, for example, Kodak TRI-x 400 or Fuji Neopan 400.
Afterlight is the perfect content editor package. With hundreds of filters and classic picture editing functions such as brightness, clarity, contrast, exposure, saturation, shadows, and highlight. In addition, the app features a fusion function for filters! This allows for infinite combinations of your favorite filters. This app is the perfect way to test different tones and mash-up filters, get creative!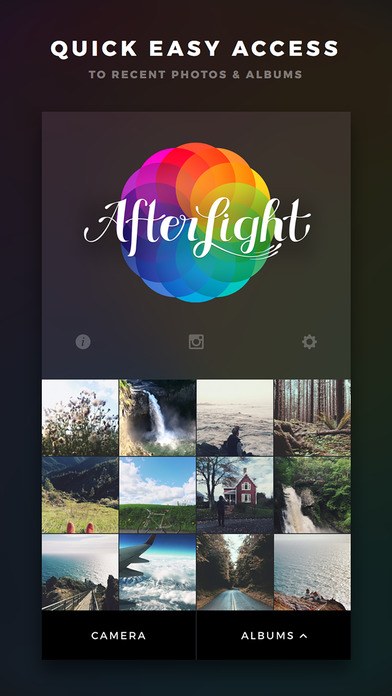 6. Facetune
Does your company post a lot of employee pictures? Are you a selfie junkie? Now with Facetune, you can edit your portraits like a professional photographer! With airbrush features and blemish remover, this app ensures we look our best every single time.
If you're new to Mobile Photography or a veteran then you probably have heard of Snapseed by Google. This unique content editing application allows users to have an entirely touch-based editing platform. Allowing users to feel in control when editing their content.
One of the most unique features of Snapseed is the Selective Tool. The selective tool allows you to change elements such as saturation or contrast of a particular object in a photo without altering the entire photo. Creating a much cleaner finish. In addition, you can make certain aspects of pop such as a logo or company name.
8. Boomerang
Boomerang is a creative way to make short loop videos that can play either forward or backward. This new type of content is a great way to spice up your Instagram feed or story.
There is nothing more annoying than seeing the same account posting 8 photos in a row. Instead, create a wonderful collage of your night with Pic Stitch. With over 245 different layouts and a built-in photo editor this content editing app is perfect for the avid picture taker.
If your looking for simple framing, sizing and color then check out Whitagram. This basic photo editor offers the necessary functions needed to help give your content a boost.
Ever wonder how some accounts are able to create drawings and letters in the air with light? Slow Shutter Cam offers a unique function that lets the user take long-exposure images with your mobile device.
Looking to create the best quality content without being a professional photographer. Camera+ unlocks the door to professional content with easy to use tools and functions. This content editing app allows for the user to use tools such as sensitivity and shutter speed when taking pictures. It also contains basic editing features like exposure and filters.
The Bokeh effect in photography has been defined as "the way the lens renders out-of-focus points of light". The Bokehful app mimics this effect with your iPhone. Smartphones alone don't yet have the capabilities to create the Bokeh effect on their own, but with the help of Bokehful you can create the effect with any moment.
14. Pro-Camera
If you want to become familiar with editing both types of content (photo and video). Then you should look into using Pro-Camera. This app allows users to shoot in both Low Light and HDR making it perfect for people who want to become more familiar with shooting the highest quality photo.
15. Hyperlapse
Looking to create new and exciting content? Instagram just recently rolled out a new content editing app called Hyperlapse. This application is not like most content editing apps. The purpose of Hyperlapse is to create stunning time-lapse videos. There is no need for expensive equipment. You can now learn how to make creative time-lapse videos in no time!
Typorama is a straight forward to use app that "automagically" creates amazing visuals by turning your words into typographical design. Now you can invigorate and inspire others in an even more creative fashion! Having trouble thinking of an inspirational message? Typorama comes with a built in message randomizer. Displaying frequently used and creative messages that you can use at your disposal.
Tiny Planet offers a unique experience for content editors, it creates an extreme fish-eye perspective that rounds an entire image. The image becomes so rounded it actually looks like a tiny planet, guess we know where their name came from.
Sometimes the content of one photo helps to tell the story of another. Wouldn't it be nice if you could post them right next to each other? With PicFrame users can easily incorporate a multitude of images to generate a single collage to tell their story.
19. CrossProcess
CrossProcess allows photographers to mimic the effects of old-school Polaroid cameras. With the manipulation of color and contrast this content editing app lets users take it back to the old school days of photography with new-age flare.
Ever take a late-night photo, only to find out later that it isn't usable. Fear Not! Average Camera Pro takes numerous photos at once to capture the perfect moment
21. TiltShift Generator
Instagram's tilt-shift not enough to give you the perspective you desire? TiltShift Generator offers an alternative means for giving your photos a better perspective. This miniature effect on photos works especially well with landscapes.
22. Layout
Layout by Instagram is an excellent way to make awesome collages of your day or most recent trip. This application was created specifically for Instagram so it transfers flawlessly. in addition, there are multiple patterns and layouts you can use to spice up your post!
Conclusion
As Instagram continues to evolve the demand for better, more creative, and engaging content will continue to increase. But just because you need professional quality content does not mean you have to be a professional photographer. We have just gone through the 22 Best Instagram Editing Apps for 2017. Take some of these content editing tools and keep them in your social media arsenal.
Just below is a helpful video on creating compelling content, the tutorial is with Youtube sensation Thomas Alex Norman.
What do you think? Is there any app you think we missed that needs to be added? Share your thoughts in the comments below and share your Instagram handle to showcase your professional content.
Want to Grow Your Instagram Organically?
Check Out This Video on Finding Viral Content: