Guest posting on relevant blogs is an effective and relatively affordable way to build links. However, there's more to it than just offering up some words on a page. In the world of digital marketing, you've no doubt heard the old adage, 'content is king'. Well, this couldn't be truer for guest posting. Recent updates to Google's algorithm have shown us that content (i.e. guest blogs) needs to be of a certain length and quality in order to fully reap Search Engine Optimisation (SEO) benefits.
I'm going to show you why guest posting isn't a science, but an art form. By learning how to strike the perfect balance between quality content and SEO you can build brand awareness, increase Page Authority, future-proof your link-building efforts, and much more.
The Goodness of Guest Posting
Let's say you wanted to increase the organic traffic that comes from Google to your website. You could embark on an SEO campaign and rank for highly competitive keywords, but it can take several months to see results. However, if executed correctly, and depending on your goals, investing time in guest posting can have the same benefits (and more) at much less expense.
Whether you're putting words on the page yourself or working with a content marketing agency, guest posting offers a multitude of benefits. On one hand, it's a great way to future-proof your link-building efforts. In the past, Google rankings were determined by which page had the most and/or best links as well as the most relevant content. Several algorithm updates later, pages with high-quality, 'natural' content are the ones that rank well. By investing time and energy into guest posting, you lower the chance of your page (and link building work) being discredited by the standards of future Google updates.
In addition to this, a good guest post that's ranking well also has the chance to gain links naturally, thereby increasing the Page Authority (PA) and making the links within more valuable. Not only that, but the more links and social shares a guest post gains while it's live, the more Google takes notice. This means that your post is also likely to benefit from an increase in rankings and visibility over time.
 Why Content Is King
You could almost think of guest posting as an elaborate cake with layer upon layer of sweet SEO goodness. However, as I'm sure you know, the key to a delicious cake is the ingredients, and when it comes to guest posting, good-quality content is the secret to enjoying a slice of SEO deliciousness.
Don't get me wrong, keyword-heavy, optimised content has its place in an effective SEO strategy, but polished, well researched and subtle content is vital for reaping the benefits of guest posting. Paradoxically, the lighter your content is on the sales pitch, the more likely it is to drive traffic and generate leads down the track. The reason for this lies in Google's algorithm.
Google uses machine learning as part of its RankBrain algorithm which focuses heavily on Expertise, Authority and Trust (EAT) when crawling for search results. A guest post with perfectly crafted content that actually provides legitimate information to the reader means more clicks and more engagement because Google is looking at what you have written in contrast with other sites that provide little or no value-added material at all. As a result, Google sees your page is hitting all the EAT benchmarks which increases your chances of organic search engine visibility and ranking success, which are vital components of any SEO strategy.
Still not convinced?
The purpose of guest posts is to publish a blog or article that provides specialised knowledge to the site's users and encourages engagement. After all, bloggers are looking to increase the authority of their site and will only publish content that's likely to be clicked on and shared. Learning how to create high-quality will increase the chances of your guest post being accepted and avoid wasting time and energy on a fruitless endeavour. Plus, building a portfolio of successful guest posts gives you some examples to show future interested parties who may want to feature you on their site.
How to create balanced content
So, if the secret to getting the most out of your guest posting venture is perfectly balanced content, how do you create it? Like most skills, writing content takes time, patience and practice. However, when it does come time to create an article or blog for guest posting, there are a few things that can take your content to the next level: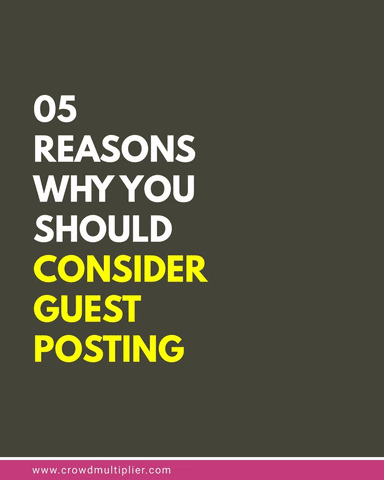 1.    Learn how to pitch
Learning how to pitch a guest post is vital because it allows you to reach out to targeted publications and get your foot in the door. A solid pitch can not only help you build relationships with some of the most prolific names in your industry, but also give you an opportunity to become a regular contributor for those sites which open their doors up to guest bloggers.
2.    Answer a genuine question
I like to think of content as part of the buyer's journey, so your guest post should always address a common, relatable query that's likely to resonate with the reader. Not only will this encourage engagement with your post it will also build your authority in the eyes of Google's algorithm.
3.    Focus on quality, not quantity
There's an ongoing debate in the digital marketing world about the impact word count has on Google ranking. Some SEO specialists believe that content over 1,000 words stands a better chance, but Google's own webmaster trends analyst John Mueller disagrees. Creating content for a guest post is all about subtlety and balance, so with that in mind, don't feel constrained by word counts and instead focus on the quality of expression.
4.    Always use references
As you know by now, Google's algorithm focuses on a page's authority for SERP, and one of the best ways to boost this is backing up your ideas with links to third-party references (see what I did there?).
5.    Create an author bio
Google states that their algorithm doesn't rank pages based on author reputation, but the importance of publishing an author bio with each guest post cannot be overlooked. Showcasing your name and experience next to well-performing content will help boost page authority and Google will begin to assign value to your name. Over time, bloggers will realise that a guest post with your name on it comes with a range of backlink benefits.
Conclusion
So, is guest posting worth the time and effort? It can be if you are committed to getting results with a long-term SEO strategy. If you're looking for quicker success in your marketing efforts, there may not be enough ROI on this tactic alone.
In the world of digital marketing, content is king, and in order to reap the benefits of guest posting, you must first master the art of creating natural, balanced content. With time, patience and practice you can boost your backlink profile, increase page authority, reshape SERP and drive organic traffic.
Guest posting doesn't have to take up all of your marketing budget – start small by dedicating one day per week to publishing content on another site. Over time as both your expertise grows and your audience matures into loyal customers that trust what they read from you online, this strategy can pay off handsomely!
Enjoy this Article? You May Also Like: