Selling clothes on Instagram is a lucrative business venture when you have the right information about the business. This post will guide you to success if you want to learn how to sell your clothes on Instagram. Today, we see fashion and money-savvy entrepreneurs cutting the middleman and selling their clothes themselves.
You can make a lot of money from your personal closet shop or Instagram closet sale. Many people jump into this business without having enough information on how to host a closet story sale on Instagram. It is simple to set up your own Instagram clothing sale if you are up to doing a little side hustle.
In this post, you will learn about the following:
What hashtags to use when selling on Instagram
How to create hype for your Instagram clothing sale
What to post when selling your clothes on Instagram
Now, let's delve straight in…
Best Tips for Selling Clothes on Instagram
Below is your best guide to selling clothes on Instagram:
1. Which Clothes Do You Want to Sell?
Before you start talking about how to host a closet story sale on Instagram, you need to decide on which clothes to sell. It doesn't matter if you are looking to create a capsule wardrobe or you just want to purge the clothes you no longer wear. All the clothes you sell on Instagram must be in top condition without stains, "holes," or any form of flaw. Anything short of this can run your business to the ground.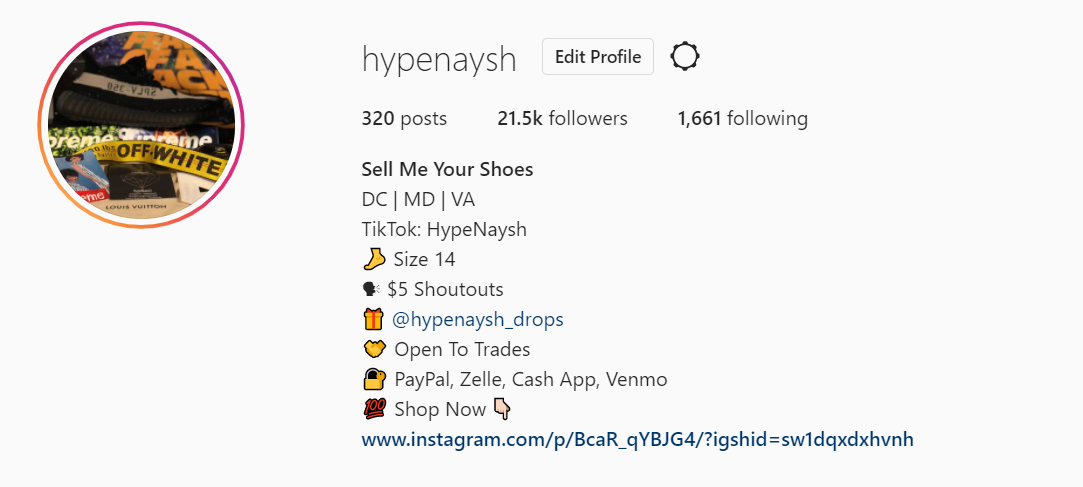 2. Create a Separate Sellers Account
Although some people use their personal account for selling clothes on Instagram, it is often not very successful. Creating a separate account other than your main account will make your page more business-oriented and professional. It will make it easy for potential buyers to sort through your page for the item they want to buy. When you use your personal page, you find buyers sorting through a bunch of personal pictures trying to find the clothes they like.
3. Promote Your Instagram Closet Sale
Now you have the clothes and the account for selling clothes on Instagram; the next step is to promote your Instagram clothing sale. Talking about how to create hype for your Instagram clothing sale, you can use your personal account. You can also promote your Instagram closet sale by sharing on your Facebook page, either fan page or personal page.
Another way to promote your Instagram clothing sale is by tweeting about your closet sales. You may be wondering what hashtags to use for your Instagram clothing sales. Some relevant hashtags include #shopmycloset, #closetsale, #mysclosetsale, etc. Such hashtags will help boost the publicity of your Instagram closet sale.
4. Add Clothes to Your Closet Sale
Once you have gotten the word out that you are selling clothes on Instagram, it is time to add clothes. Some people prefer to make a "flash sale" where they can add lots of clothes at once. Some sellers prefer to keep their closet open at all times with non-negotiable prices on their clothes. These two approaches work really well, but you will have to decide which works better for your schedule.
We recommend pricing your clothes reasonably, but not overly cheap, that people think it is low quality. Some sellers up their prices by about $7 because of shipping costs. You can look into shipping costs generally and then add a reasonable shipping price in your bio.

5. Be a part of #ShopMyCloset.
All resellers selling clothes on Instagram use special hashtags to draw buyers to their wares. You can search the Instagram hashtag #ShopMyCloset to see the way other resellers are showcasing their items. Some resellers include the payment option available, the country they serve, and time to ship the item.
You also get to see others update the photos of their items with "Sold" as buyers purchase the items. This sends a message to other potential buyers that other people are also interested in the product. It is a way of telling buyers to act fast before another buys the item before them.
Ensure you include the #ShopMyCloset hashtag to your own posts and include other popular hashtags like #Instashop. This way, it makes it easy for people who want to buy your clothing to find you on Instagram.
How Profitable is Selling Clothes on Instagram?
There is money to be made from an Instagram clothing sale. According to Ashley Steenhoven of Bloom Designer, her brand makes between 30 to 40 sales every day from Instagram. From selling clothes on Instagram, Ashley generates almost a quarter of her revenue. Meanwhile, Ashley's story didn't happen overnight. For you to get to this level, there are three essential factors you need to pay attention to, they include:
The quality of the clothes you are selling on Instagram.
Price of your wares.
The amount of time you put into promoting your store on Instagram.
There is no doubt that you can make a lot of money from selling clothes on Instagram. However, you need to understand that it requires consistent effort and determination to make it happen. Make out time to explore Instagram shops to make sure you are offering equally valuable ware. You should also try to match the prices you find online.
It is also important that you let your social network, friends, and family know about your Instagram store.
In Conclusion 
Selling clothes on Instagram is a profitable venture, as you already know. So, the problem is not whether you will make profits, but if you will do what it takes to succeed. You have to know what to post when selling your clothes on Instagram, what Instagram hashtags to use, etc.
It is not rocket science; therefore, you can do it and even do it better. You don't have to let anything pull you down from actualizing your dream of setting up an Instagram closet sale. If you have any contributions or questions regarding the Instagram clothing sale, kindly use the comment section below.
Enjoy this Article? You May Also Like: