In order to overthrow Tik Tok, Instagram has introduced a new feature named "Reels." This 15-second short-video allows users to create fun and creative videos with a background music option. Surprisingly, these small clips are getting 5million+ views, making them a mandatory addition to a brand's digital marketing strategy. 
Big brands like Louis Vuitton, Sephora France, Balmain, and many others are already utilizing the feature to its full. So, let us dig inside the details of this feature and see how Reels hashtags help in making your brand go viral.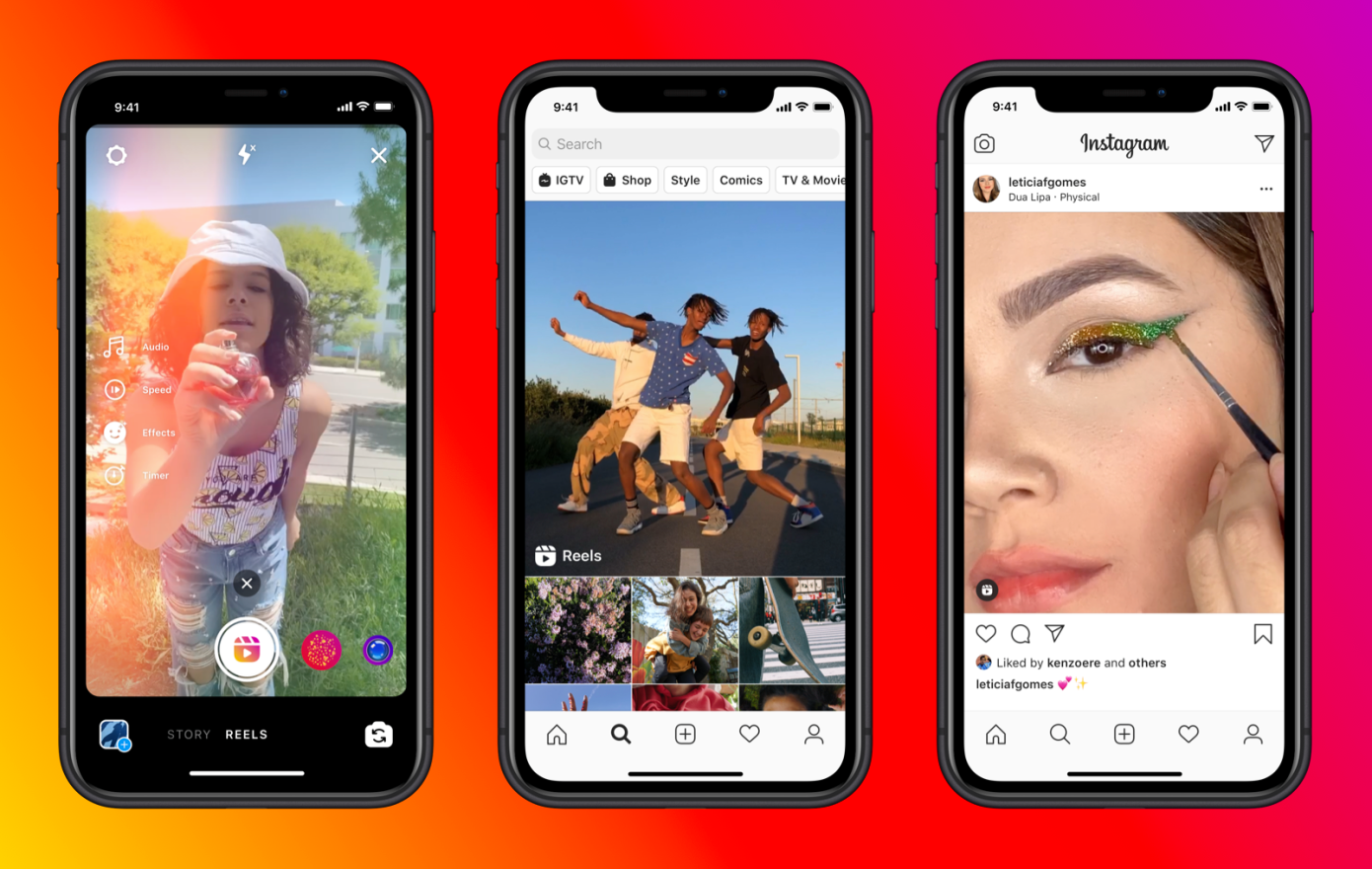 How to Create an Instagram Reel
Sharing, creating, and viewing Instagram Reels are as simple as 123. Here is how you can do it: 
1. Shoot & Edit Your Video 
Go to the camera option of Instagram and go on the Reels option

Make sure to select the background music before shooting your video

You can record your music or use the Instagram library for it. Know that others can also use your recorded music with the "Use Audio" option. 

Now, you will set the timer. Like stories, you can easily use the features of Reels for adding special effects. 

Shoot your video. You can also use the speeding up or slowing down option for selected clips. 
2. Share
Now that you have created your Instagram Reels clip, it's time to share it! Unlike TikTok, Reels has multiple sharing options; reels can be shared on the Instagram Explore Page, Instagram Stories, Account Feed, & Direct Message. You can simply post your Reel on your Instagram account, add a hashtag or a caption, and tag multiple friends. 
For higher visibility, post your Instagram Reel on your feed and set your account to the public. Since, Instagram has just released this feature they are giving Reels a major boost in organic reach. The Instagram Explore Page now showcases Reels at the top of the feed and once you enter, it becomes similar to TikTok's endless vertical feed of new content. 
Now, people use various Instagram hashtags, music, and effects with their Reels. This strategy provides maximum visibility since Instagrammers can find new Reels by searching through hashtags, songs, or effects used in Reels. Digital marketers are incorporating this strategy to reach a larger target audience. Since Reels are already a big hit, users are likely to click on a new Reel they found through their search. 
3. Start Watching
Once your Instagram Reel has been uploaded you & your followers will be able to see it. If you have a public account, your Instagram Reel will get pushed to the explore page where it will be showcased for the larger Instagram community to see. Not only that, but your Instagram Reels will also be categorized under Instagram hashtags, sounds, effects & more. 
How Instagram Reels Helps in Business Growth 
Reels have been a huge hit for brands on Instagram. Businesses & Brands have been using Instagram Reels in order to connect with their audience, showcase new products, & test out new creatives. Now that brands have seen the power TikTok has and they've been jumping into Instagram Reels with full force because of the massive organic reach.
1. Suitable Time to Post Reels 
You cannot post Reels at any time. Think smartly and post it at the post when your audience is awake. This highlights the need to consider the location of the audience. For instance, if you are from New Zealand and your audience is from Thailand, you need to focus on the difference in timings. Post Reels at a time when the audience is awake. Again, it depends on the age group and demographics. For instance, if your audience includes teenagers, avoid posting during college hours. 
2. Content Relevancy 
Though Reels is an ideal feature to show creativity and build engagement, it requires content relevancy. Your target audience might not notice an irrelevant post. However, you can post about recent happenings and hot topics like coronavirus, Christmas, Olympics, and so on. 
3. Uniqueness
Don't just create pushy Reels for conversions. Consider each post as a pathway to developing a relationship. Know what your audience wants from you. For instance, if you are running a business of yoga classes, do not just post about yoga. Share your work schedule, your hobbies, and your struggles, and so on. 
Using Instagram Reel Hashtags for Business
Not every hashtag is best for your Reels, you need to pick the best one and they should be relevant. Having Instagram Reel Hashtags that are highly related to your content gives you a better chance of showcasing your content to people that are interested. Even the most trending hashtags fail to increase viewers if they are not from the same niche. For instance, you created a Reel about a Carpet Cleaning Hertfordshire business but used a hashtag #Reelssportswear; it won't have as great as an impact. Instead, it would help more if you used #Reelscleaningservice or #Reelscarpetcleaning. 
Spamming unrelated hashtags will give you nothing. Find relevant hashtags with the search options on Instagram. Type your keywords, and you will get a ton of options. Use the most relevant ones in your Reels. You can place Instagram Reel Hashtags in your caption in order to maximize organic reach. 
Best #Reels Hashtags for Instagram
If you're looking for the best Instagram Reel Hashtags to go viral on Instagram then check out our list of hashtags for Instagram below:
#instagramreels
#reels
#reel
#reelitfeelit
#reeltoreel
#reelsinstagram
#reelsinsta
#reelsofinstagram
#reelsinstagram
#reelsvideos
#reelsvideo
#reelsindia
#badgereels
#fishing
#fish
#shimano
#k
#rods
#jig
#jigging
#explore
#feature
#trending
#popular
#fyp
Conclusion 
Using the latest features for grabbing customer attention is vital for business growth, and Instagram Reels is one of them. Creating some attention-grabbing Reels with trendy hashtags and creative captions are likely to amplify views in no time. Thus, digital marketers should arm their strategies with new Reels and hashtags to stand out from the mob.
Author Bio:
Shaheryar provides ghostwriting and copywriting services. His educational background in the technical field and business studies helps him in tackling topics ranging from career and business productivity to web development and digital marketing. He occasionally writes articles for Carpet Cleaning Hertfordshire.
Enjoy this Article? You May Also Like: