Have you noticed the incredible amount of organic reach potential that exists on TikTok? Are you looking for a proven method on how to go viral on TikTok so you can capture and harness this reach?
We entirely understand that many people like you are also looking for ways to go viral on Tik Tok.
Don't worry.
This article is meant to help you out.  We'll show you different ways on how to become famous on TikTok. We'll also dive further to talk about some viral Tik Tok videos.
In the end, you should have everything it takes to become the next famous and reigning star on the social media platform.
We'll like to begin by stating that Tik Tok is one of the most downloaded apps in 2019. It's a video creation and sharing app that was rolled out to an amazingly fast reception, especially among teens and tweens.
If you've got the app installed on your phone, you probably know how addicting it can be. You find yourself scrolling through funny few-second long videos for hours.
Well, Tik Tok is endless entertainment.
However, what if you want to go viral on Tik Tok? How can you get your clips in front of more eyes?
Well, you need to increase your fan count and follower!
That's easier said than done. There are many services that can bring you a bunch of fake fans and followers, but those will get you nowhere. Your account will also stand the risk of getting banned.
Just as it's on other social media platforms, acquiring genuine fans and going viral requires a lot of persistence, perseverance, and hard work overtime.
As a TikToker, it's unlikely that you'll grow viral overnight. Getting a huge fanbase will most likely take some hard work and time.
Here are some tips for growing viral on Tik Tok.
HOW TO GROW VIRAL ON TIK TOK
Step 1: Your Profile Should Appear Approachable & Charming
If you want to go viral on Tik Tok, one of the essential things is to ensure that your profile is attractive. When it comes to optimizing your profile, every information is vital and useful.
Your username, profile picture, and personal information can all leave a powerful impression on anyone that visits your profile.
For instance, a long username that's hard to remember won't help you to gain more recognition. That's because many people would most likely forget it soon after they hear it.
One way to thrive here is by using a catchy, unique, and short username.
Additionally, try to clearly and correctly mention the kind of video that you're producing.
Your profile is the very first step to building communication with followers.
That's why you need to put in great efforts so that new followers would be persuaded to follow you and start interacting with you.
Step 2: Be Hyper Active on TikTok
If you're a user on Tik Tok and you want to go viral, then you need to announce something brighter, frequent and louder than the others to win the race.
Research has shown that people with low-profile aren't as much liked as those who are continually and always hyperactive.
Hyperactive accounts are more likely to get crowded than normal ones. With hyperactivity typically follows constant content production. The constant production of content allows for higher chances of going viral.
So, if you must be viral on Tik Tok, then your voice needs to be heard.
Step 3: Collaborate with Famous TikTokers
Usually, collaborating with users is an excellent way to get noticed by the audience of other users. One way to go viral through collaboration is to make videos with users who are having a very massive fanbase.
If you cannot physically meet a popular Tik Tok user, you can make duets with him/her and mention their profile in the description.
That way, their followers will get to watch your videos and follow you. A lot of users also love group Tik Tok videos. So, you can consider making videos with other famous creators.
Step 4: Be Innovative & Unique
Typically, when you have your own trumpet to blow, it's more recommended and effective that following another person's footsteps.
If you try to follow someone's footsteps, you'll never find your innovative style.
Rather than following the usual trend, it'd pay you more to be unique, have command over your voice, and create videos that you're passionate about.
Don't be scared to think outside the box. Occasionally, it's good to try out something novel to get your follower's reaction.
Often, you'll get to discover what your followers like and attract a new set of followers who loved your willingness to try out new things.
A lot of people love to celebrate innovations.
So, the outcome being innovative and unique is that in no time, you'll become viral.
Step 5: Participate in Viral Challenges & Competitions 
The importance of participating in viral competitions and challenges can never be overemphasized. Usually, the app is popularly known for giving new, innovative challenges every week.
Viral challenges often involve dancing and singing to a popular song, and a lot of people love to watch the video of these trending challenges.
So, you can leverage on that to produce videos that'll make you stand out.
When you use trending hashtags in the posts you share, your videos will be seen by millions of people. Also, your followers' count will increase drastically.
That's not all.
A viral challenge can motivate you to explore a specific music genre or topic further to develop an easily identifiable style that can expand your fanbase. Just below is a snapshot from some tiktokers during the Viral Lipstick Challenge!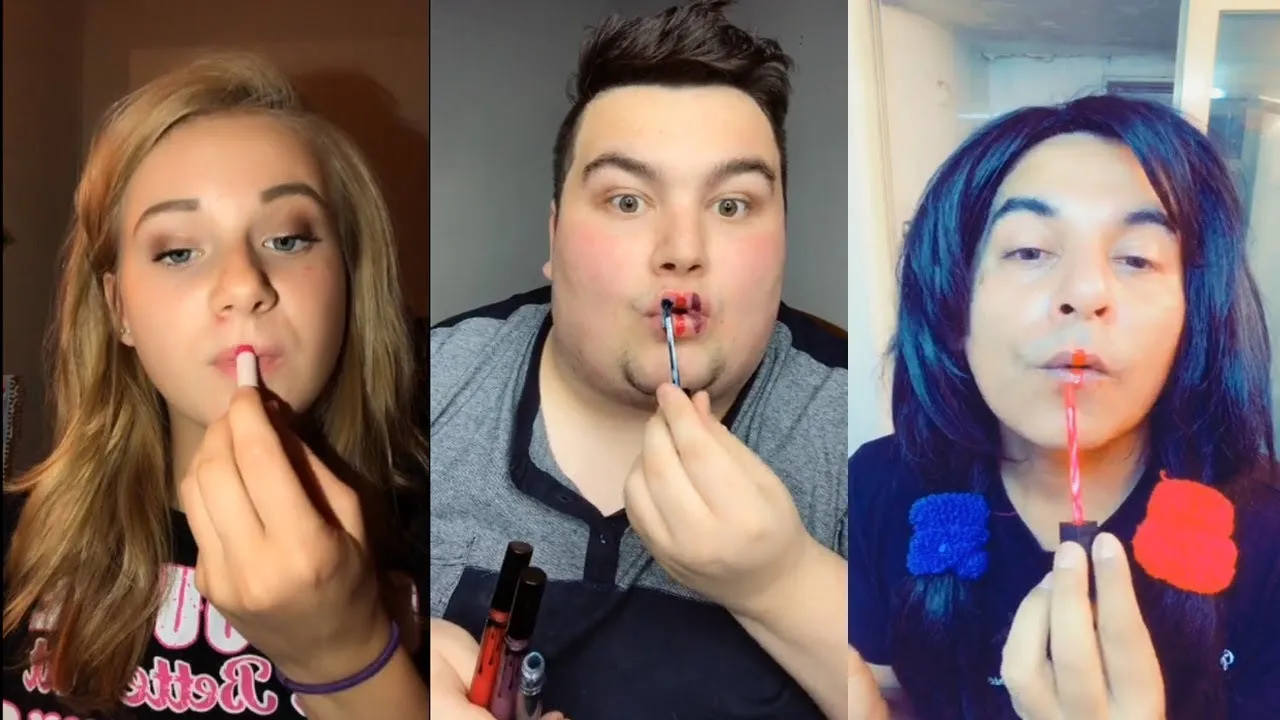 Step 6: Be Entertaining & Fun Story Teller
How can you expect people to watch your videos and be happy if you don't have fun making them?
Well, if you want to go viral, then it pays to be spontaneous and humorous. That way, your audience will always want to know your next move.
To get this right, you need to experiment with story-telling and new ideas.
Even though there are no guidelines to the success of any content you post on Tik Tok, concentrating on your performance while trying to be entertaining at times can help you to go viral and increase followers.
Now that we've talked about killer secrets to going viral on Tik Tok, we'll dive into some examples of viral videos.
So, take a glass of coffee and let's dive deep together.
EXAMPLES OF VIRAL TIK TOK VIDEOS
Even though it might be challenging to get your content to go viral like the more prominent brands, Tik Tok could be an excellent tool that you can use to go viral. Since the app is still new, you can experiment with a different strategy to see if it works.
If you're looking to go viral on Tik Tok, then below are examples of videos that you can draw inspiration from:
This ice cream producer has found internet recognition from all the beautiful ladies out there with his ice cream preparation.
Rob Huysinga (the ice cream man) known for his handcrafted ice-cream making procedures masterminded the video sensation.
He created a Tik Tok video of himself making ice cream from scratch at the British Kiosk. The video went viral and even caught the attention of Tik Tok users.
Also, over 14 million people watched his dramatic preparation of the Oreo mix-ins and Nutella on Twitter.
Rob now has a steady and loyal following. He's also using his talent to draw attention to special causes. All he does is make ice creams for charities.
Dominic Toliver is the king of the online comedy who after building a massive following on Vine, made videos that had over 130 million hearts on Tik Tok.
His "ultimate friend zone" video" went viral. The video received over 1.2 million hearts for its excellent blend of music and comedy, incorporating songs and lyrics into his sketches.
Before the emergence of Tik Tok, Dominic had earned over 90,000 followers on Vine. His Tik Tok profile launched his career as a comedian and social media star.
Indeed, Dominic is a model for obvious reasons.
The "Karma is a Bitch" challenge is a final vengeance. In the challenge, users begin by appearing normal in a video selfie.
Afterward, they pull a piece of clothing, blanket, or scarf over their head to expose their sexier, beautiful and more good-looking personality.
The challenge also has an iconic version where participants look the same even after using the piece of clothing, blanket, or scarf. Such posts have the #showyourbeauty hashtag.
The song "Dame Tu Cosita" which means give me your thingy was initially written in 1998 without any attractive feature.
But then it went viral when ArtnNoux (French video game animator) used the song as the background sound for his animated green alien.
Dame Tu Cosita became more popular than hundreds of Tik Tok videos. It also entered the hot 100 with over 1,000 downloads and 10.4 million US streams.
The song and its welcoming green alien also became popular with children who tried their best to imitate dodgy dance moves.
The "I am already a Tracer" video has become the depiction of an earworm.
It's a series of duets in which Tik Tok users record videos of themselves lip-synching the lyrics of the song "No Mercy" by nerdy pop-rock band – The Living Tombstone.
It all began when the Mashed YouTube channel posted an animated music video for the song.
The song features a segment where YouTubers "LittleJayneycakes" and "Black Gryph0n" sing a disagreement over the characters to play in the video game titled overwatch.
I am Already Tracer has reached somewhat of a cult status and the takeout from the song has made thousands of TikTokers to act their versions of the lyrics.
Gummy Bear Adele is one of the videos that went viral on Tik Tok. The scene of this video opens with a single bear reciting the first words of the chorus of the "Someone like you" song by Adele.
Afterward, the gummy bear's mic cuts out, and a crowd of gummy bears recites the rest of the chorus as the camera spans over them.
Gummy Bear Adele is a feel-good video of the year, and it has inspired other related creations on Tik Tok.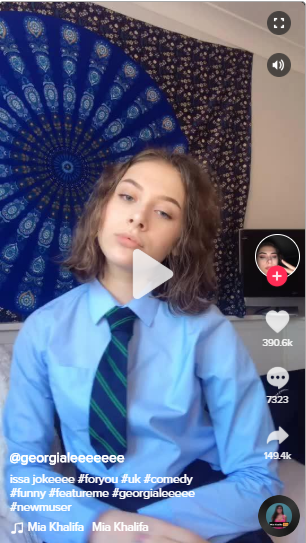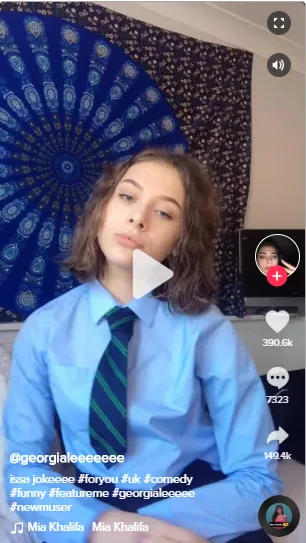 Have you heard someone randomly yell out the catchphrase "Hit or miss" in public lately?
If yes, then you can blame Tik Tok.
The social media channel has encouraged and stirred up a real-life competition where people shout, "Hit or Miss" and wait for a response.
Peradventure they get any response, they'll know that another TikToker is close by.
This challenge is now so popular on Tik Tok and many people even capture their Hit or Miss experiences so that they can share it on Tik Tok.
"Nala The Cat" is an 8-year-old Tabby-mix/Siamese that was awarded the 2019 best TikToker of the year in New York by the Shorty Awards.
She was liberated at the young of 5 months old and her hypnotic blue eyes has been alluring social media fans ever since.
Nala has over 140 million Tik Tok fans, and she's frequently drawing "awws" from her audience who usually upload photos of her life around the house.
She holds a Guinness world record, has over 4 million followers on Instagram, and her videos are usually viral just because her personality has captured the mind of many TikTokers.
The "Shoe Change Challenge" (accompanied by a catchy song) had Tik Tok users changing their clothes and kicking their shows into the screen on the beat of the song.
The challenge initially began with shoes changing, and as many people became interested, it evolved into outfit challenges. It was a challenge that went viral and was viewed over 120 million times.
CosPlay is an acronym for "Costume Play." A performance art where participants wear fashion accessories and costumes to represent different characters.
In this internet age, it means dressing up to look like manga, Japanese rock, kpop character, video game, or anime. Cosplay is a show that went viral.
The performance is enormous, and it has inspired hundreds on videos on Tik Tok.
CONCLUSION
Here's a recap of what we covered in this article.
We talked about different ways to go viral on Tik Tok. Afterward, we dived some viral Tik Tok videos, explaining the reasons some of those videos went viral.
Truthfully, going viral on Tik Tok is something that requires a lot of persistence, uniqueness, and innovation.
If you offer something fresh on your Tik Tok profile, you'll sweep your audience off their feet and in no distant time, your video will soon become the talk of the day.
Try to implement with what we've talked about in the article and incorporate some lessons from the examples we outlined.
We can't wait to have your video featured and trending on Tik Tok.
What are your thoughts about this article? How can someone go viral on Tik Tok? Are there other examples of popular videos that you'll love to share? Please share your opinions and experiences in the comment section below.