Instagram is taking big strides to ensure it's business community is happy. Instagram is making it even easier for business accounts to monetize their following; in addition to bringing in more ad revenue for the platform. With the recent release of Instagram Story Product Tags, Business Account owners will be able to link physical products in their Instagram Stories. Just below we are going to be going over all the details of this recent update on Tagging Products in Instagram Stories.
Getting Approval for Shopping on Instagram?
In the same fashion that Instagram Story Links, Audience Analytics, & Product Linking were only released to Instagram Business accounts that met certain criteria. The same is true for shoppable Instagram stories. To access the new feature you must first be approved by Instagram, here are the requirements from Instagram for getting an Instagram Product Tagging on your account.
To become approved for shopping on Instagram, your business and account setup must fulfill the following requirements:
The business profile must be connected to a Facebook catalog. This can be created and managed on Business Manager, through Shopify or BigCommerce platforms or directly on your business's Page on Facebook.
After fulfilling the necessary requirements, Instagram will take some time to review your account. It typically takes Instagram a couple of days to review and approve your account. In some cases, Instagram may take several days for a more detailed review of your account. When your account does become approved you will be able to turn on product tagging in settings.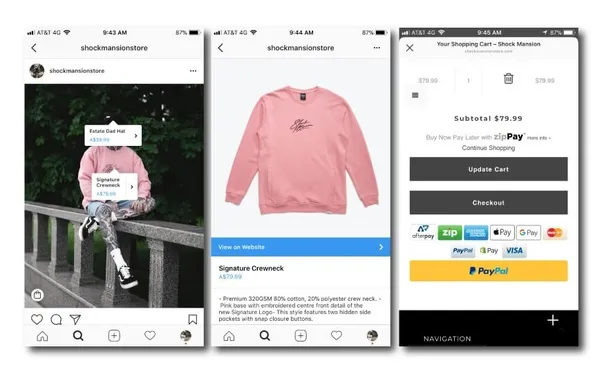 How Can People Shop on My Instagram?
Now that you have been approved for product tagging on Instagram, you can now start to make your feed & stories shoppable! Shopping on Instagram gives your business an interactive & engaging storefront. Allowing potential & returning customers to be able to see your products in action. No longer will Instagrammers have to navigate off Instagram to dig through enormous merchandise websites to find the products they love. They will now be able to interact, engage & shop all their favorite brands from the comfort of Instagram.
Things being what they are, how would you know whether your business will get endorsed to take the jump of Insta-shop? The criteria:
1. Ensure you have the most recent form of the Instagram application.
2. Convert your Instagram account into a business profile.
3. Be an administrator on a Page or Business Manager account.
4. You should have a product catalog associated with a shop on Facebook.
5. You should sell eligible physical goods, which means no administrations.
Useful tidbits from Instagram, "We're enabling organizations to make and label a post with items legitimately from their iOS cell phone. When a business has an item index associated with their record, labeling an item is as basic as labeling an individual in a post."
Creating a product catalog on your Facebook Business Page will enable product tagging for your Instagram account. If you are using services such as Shopify, use the catalog plug-in that integrates into your Facebook do not set up manually. For those that do not use Shopify and other e-commerce services. Simply add a Shop section to your Business Facebook Page and link the appropriate products from your website.
How to Tag Products in Instagram Stories?
After you've been affirmed and vied for set-up in Shopping in Settings, you can begin labeling items in your posts and stories.
Before you start
1. You should be affirmed for shopping on Instagram and completed the arrangement, before having the option to add item stickers to your accounts.
To include item stickers in your accounts:
1. Select a photograph or video to transfer to your story
2. Select the item sticker from the sticker plate
3. Select the item from your inventory that you need to highlight
4. Move the item sticker to where you might want it to show up in your story. Note: If you might want to alter your item name, you'll change it in your item list before including the sticker. The content shade of the item sticker can be changed by tapping the sticker.
5. Offer your story
For stories, 1 item sticker can be included per story. You can go through the sticker with swipe, features, and recordings.
It's really that easy. This new feature is going to be extremely powerful for those that create captivating IG Stories. This will allow creators to give life to their products. Giving customers a true understanding of your product and all of its glory.
Note: This feature is currently available to approved businesses in the United States, United Kingdom, Australia, Canada, France, Germany, Italy, Spain, Brazil, Sweden, Netherlands, Argentina, Mexico, New Zealand, Switzerland, Puerto Rico, Ireland, South Africa, Belgium, Austria, Peru, Uruguay, Paraguay, Malta, Ecuador, Panama, Portugal, Poland, Greece, Cyprus, Denmark, Czech Republic, Romania, Norway, Hungary, Bulgaria, Croatia, Finland, Latvia, Lithuania, Slovenia, Luxembourg, Dominican Republic, Belize, Korea and Japan.
Like this article?
Make sure to check out How to Master Instagram Stories or How to Get More Views on Instagram Stories in 6 Simple Steps.