If you are reading this article, you're probably looking for ways to remove Instagram action blocks. If so, then you are in the right place.
Instagram is one of the most popular and most loved social networking sites, if not the best. The platform has set out guidelines for users to follow if they want to become trusted and permanent members of the community. Even with those guidelines, there are still lots of people who get blocked on Instagram because due to error, mistakes or simply refuse to follow the rules. So they search for tips on how to remove Instagram action blocks.
Basically, an action block is used to punish Instagram users who violate their guidelines. When a user account is blocked, he or she won't be able to perform a basic task such as liking, commenting, or following.
This article will discuss the ways in which you can remove action blocks on your account. Before I discuss further, it is important to understand what Instagram action block actually mean.
What does Action Blocked Mean?
There are people who try to grow their followers very fast by following and unfollowing lots of users, and excessively commenting on different posts in a short period. These actions abuse the Instagram system. In other words, to protect the app and its community, Instagram finds and blocks accounts that are involved in spammy behavior.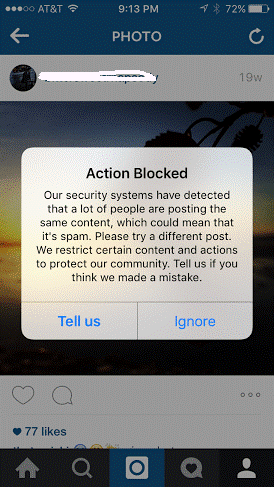 Instagram blocks users engaging in spam activities for a particular period of time and shows them the "Action Blocked" error message.
If you are seeing such a message, then it means you have violated their system and you have been blocked from performing basic tasks such as liking/commenting on people's post.
It's important to note that violators are automatically spotted by Instagram's system. It bans your account for an unintentional or little mistake. The worst part is that it won't give you a reason for blocking actions on your account. Instagram never gives a user a warning or reasons to its users.
8 Reasons Why Instagram Blocks You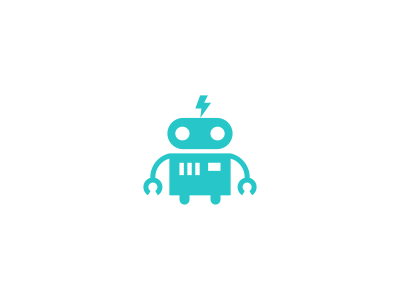 1. Suspected automation of your account
Creating an Instagram account through an unauthorized means such as bots, scripts, spiders, scrapers, or crawlers are highly prohibited by Instagram. Although, automation is safe when it is done in the right way. If you aggressively automate your Instagram actions, then Instagram can easily detect your actions, which will result in an action block.
Luckily, Socialisers Instagram Services are 100% human based. So there is no risk of getting banned or blocked. Your Instagram account can reach organic followers on a daily basis.
2. Logging in from a Different IP address and devices
If you log into your Instagram account from a different IP address or device, and you can't confirm your identity via SMS or email. Then the system may think your account has been hijacked by hackers. The reaction to this is that the system immediately blocks your account to protect your privacy and safety.
3. User Complaints
Instagram can block your account if a lot of people report your account as a threat. There are lots of reasons why people can make complaints about you, they include, mass following, mass liking, spam, posting contents that are inappropriate, insults and so on. Everything listed above can result in action block for your account.
4. Spam Comments and Direct Messages.
Your account can be blocked when you send unwanted direct messages, comments, likes, and other spam activities to any user on Instagram.
5. Posting Sexual, Inappropriate images or video.
Action Block can be placed on your account if you post photos and videos exposing sexual content, violence, or nudes. Instagram does not care about the objectives for posting inappropriate content, as it earns you an action block or ban.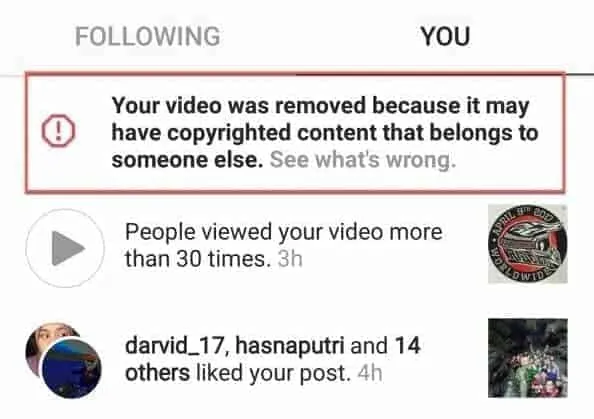 6. Copyright Infringement.
Copyright Infringement on Instagram is a very big deal. All images or videos posted on your account have to either be yours or authorized by the owner. If you want to share the content of a particular user, then you need to tag the user and give credit to the user in the description.
However, if you want to use the content for a commercial purpose, then you need to ask for permission from the owner. Also, if you post a video content with music that you haven't been authorized to use, Instagram will remove such post
What are the punishments for infringing Instagram's copyrights guidelines?
The owner can report you for using the content without their authorization or giving them credits. Your account can be blocked for violating the copyright guidelines.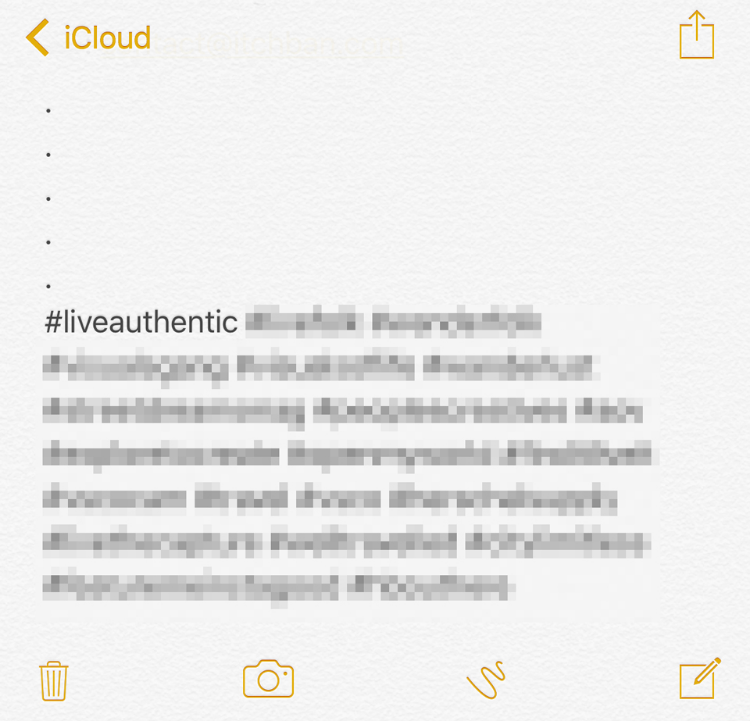 7. Putting hashtags in the caption instead of comments.
A lot of users have claimed that this trick works. However, you should state it in the comment section below if it works for you.
Some users reported that putting hashtags in the comment section earned them an action block after about an hour of posting their comment. More reason why it's advisable to put them in your post captions.
However, your caption can be bulky if you put your numerous hashtags in it. In other words, to keep your caption clean and less bulky, use bullet points or any other means to separate your hashtags from captions.
8. Excessive and Frequent Posts.
The algorithm of each post generated from a particular account is monitored by Instagram. Instagram systems know the safest and accurate number of posts for each and every account. So, the fact that other users posts contents frequently without getting punished does not mean you should follow their path.
The best advice for every user is to set intervals between their posts. When you do this, your account will not be suspected of performing spam activities or violating any guideline. Also, it is important for you not to post the same exact content and captions on different accounts at the same time.
7 Tips to Remove Instagram Action Blocks
1. Use Another Device and Switch to Data
Instagram can block your account for different reasons. It is possible for them to block your IP address and device, not your account. If you see an action blocked error, then your best bet is to change to a different device, stop using WiFi and use your personal data.
Every internet-enabled devices have two IP address— a private and a Public one. Your home's router connects to the internet using the public IP address assigned by your internet service provider. Your device also has a public IP address.
So, switching to a different device and personal data can remove Instagram action block because you have disassociated yourself from the blocked IP address.
2. Uninstall Third-party Apps
Using a third-party app can also earn you an action block on Instagram. If you use any third party app, then you need to uninstall them as soon as possible.
Most apps that use Instagram API do not really provide restrictions on users who abuse their app features, that's why Instagram blocks the account associated with such apps.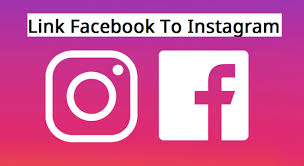 3. Link Your Facebook and Instagram Account Together.
You might need to prove to Instagram that you're a human by linking your Instagram account to another social media account since Instagram system thinks you're a bot. This creates trust between you and the system, which gives you a high chance of getting your account unblocked in the next 24 hours.
Linking your Instagram account and facebook account is not a difficult task. All, you need to do is go into the app settings and you will see the option to link other social media accounts. When you click on that option, you can easily connect your Instagram account and other social accounts together.
4. Take a break from Instagram for at least 48 hours.
It is important to know that if your account gets blocked on Instagram, the system will take it's time to unblock you. In order to prove that you're not a bot, you need to take a break from Instagram activities. It is recommended to leave Instagram for at least 48 hours so that the system can reset.
Once you come back to Instagram after 48 hours of doing nothing, you will then realize that your account has been unblocked and you can now like, comment, follow, and unfollow.
5. Send a report to Instagram.
If you feel you have done nothing to warrant an action block on Instagram, then you need to fight it. Simply send an honest report to Instagram's support detailing everything about an action block.
An investigation will be carried out by the support agent and if you're found innocent, then your account can be unblocked immediately. It is important to read about Instagram guidelines and act accordingly before you take this type of action.
To report an issue, open the Instagram app on your device. Go to your profile, click on settings on the top right, scroll down to support, and click Report a Problem. Explain your difficulties to Instagram and hit the send button. After sending it, then you need to wait for a period of time to get a response.
6. Delete all hashtags from your recent posts.
There are some hashtags that are banned or blocked by Instagram. Such hashtags are usually banned because they seem inappropriate, while others are innocent but have been spammed with photos that are inappropriate. The hashtags that fall in any of the two categories are usually blocked by Instagram either permanently or temporarily.
Remove such hashtags from your recent Instagram posts. A lot of people have testified that the trick worked for them and this seems to be the fastest way to remove Instagram Action Block.
Some users also reported that using different hashtags frequently helps you avoid action block on Instagram. This action informs the system that you're not a bot and an active user.
7. Clean and Reinstall.
This step should be your last resort. It will require you to uninstall your Instagram app and clean all its previous data. You can now reinstall the app back after some time and check if the Action Block has been removed.
8. Change Password
Of course if none of the above methods worked and you have not tried this already. A simple password reset usually is a simple solutions to some of the most wacky problems. Some of our subscribers have been able to remove their Instagram Action Block with a simple password change.
How to Avoid Instagram Action Blocks
In this section we are going to cover some quick tips on how to avoid Instagram Action Blocks! Make sure to put all these practices into good use to ensure that your account does not get banned or blocked from Instagram.
1. Start Slow When You're New
It is important to avoid liking or commenting on people's Instagram post immediately after you create a new account. This is usually done by bot accounts.
What you need to do after creating a new account is to start posting your own photos. You should post at least ten photos before liking or commenting on other people's post. The photos should not be posted within the same hour — you can post two pictures daily for best practices.
The goal is to show Instagram that you are an authentic user and not simply just trying to spam the platform. Complete your Instagram profile by writing a short bio and uploading a profile picture. This will show Instagram's system that your profile is authentic.
2. Stay Active on Instagram
It is also important not to stop posting pictures either on your status or as a normal post. Posting at least twice weekly will inform the system that you're not a bot.
Since, Instagram's latest update they have been cracking down on third party applications and botting on their platform. If you're suspected of doing either your account will be blocked on Instagram.
One trigger for this block is inactive accounts that still engage heavily on the platform. For instance, if your account is used on a powerlike platform and you never post. Your account will constantly throw up red flags to Instagram.
3. Try Not to Spam
Avoid posting duplicate comments and emojis. Your account can be blocked as soon as Instagram detects such abuse. The system will place an Action Block on your account for as long as it wants.
This typically happens if you're in an engagement pod where you go through and comment on a large number of accounts in order for return engagement. This type of "spam commenting" triggers comment blocks, like blocks and other engagement blocks.
There is even a direct message block if you happen to send too many Direct Messages within a certain period of time.
4. Keep the Following/Unfollowing to a Minimum
Avoid mass following and unfollowing of people. The Instagram system is configured to consider such action as a bot and spammy-like behavior. Follow/Unfollow actions per account are around 0-200 per day.
Read Instagram's community guidelines! There are several other actions that can earn you a block on Instagram that we might not be familiar with. That's why it's important to read and try to follow the rules stated in Instagram's community guideline.
I hope this article has been able to address what Action Block means, its reasons, and how to avoid those Instagram "Action Blocked" error messages. Carefully read the article to keep your Instagram account safe from punishments.
Enjoy this article? You might also enjoy: