Online Sales Pro is a complete system that's intuitive, clean, and loaded with features that help you get leads, inbound marketing, and sales. We'll show you how to generate leads and get started with integrated and on-going sales training from online professionals, a lead management system, and an app for iOS and Android.
Lead Generation
Generate leads for

ANY COMPANY

, product or service.
Drag & Drop Builder
200+

Prebuilt landing pages,

FULLY CUSTOMIZABLE,

for ANY language.
Fully Responsive
Intuitive dashboard, lead management, capture pages, and app for

REAL TIME CONTACT!
Frequently Asked Questions
What is Online Sales Pro?
Online Sales Pro is a powerful software platform that will turn your online traffic into leads for your business. Depending on your business goals, you could use Online Sales Pro to generate leads and build an email list. We also have a world-class affiliate program for marketers who love our software and want to promote it.
Check out the OSP Demo to learn more.
What is your refund policy?
30-Day Guarantee: To ensure customer satisfaction of our software, we issue refunds for subscriptions within thirty (30) days of your initial purchase. Charges older than thirty (30) days are not eligible for a refund under any circumstances. You can cancel your subscription at anytime.
We recommend contacting us for assistance if you experience any issues logging in, or using our products.
If you have any questions about our Software Subscriptions Returns and Refunds Policy, please contact us:
Does Online Sales Pro connect to third-party autoresponders?
Choose from a wide range of integrations – including Now Lifestyle, AWeber, MailChimp, GetResponse and ActiveCampaign – and send your new leads straight to the tools you already use.
Does Online Sales Pro follow up with my leads?
Yes, by default, Online Sales Pro will send emails to your leads who opt-in to the funnels. If you choose to integrate OSP with your own email autoresponder (AWeber, GetResponse, MailChimp, Now Lifestyle, etc.), then OSP will not email your leads.
New to Online Sales Pro? Looking for help getting started?
Start by logging in and from the Dashboard go to Getting Started. Click on Start Now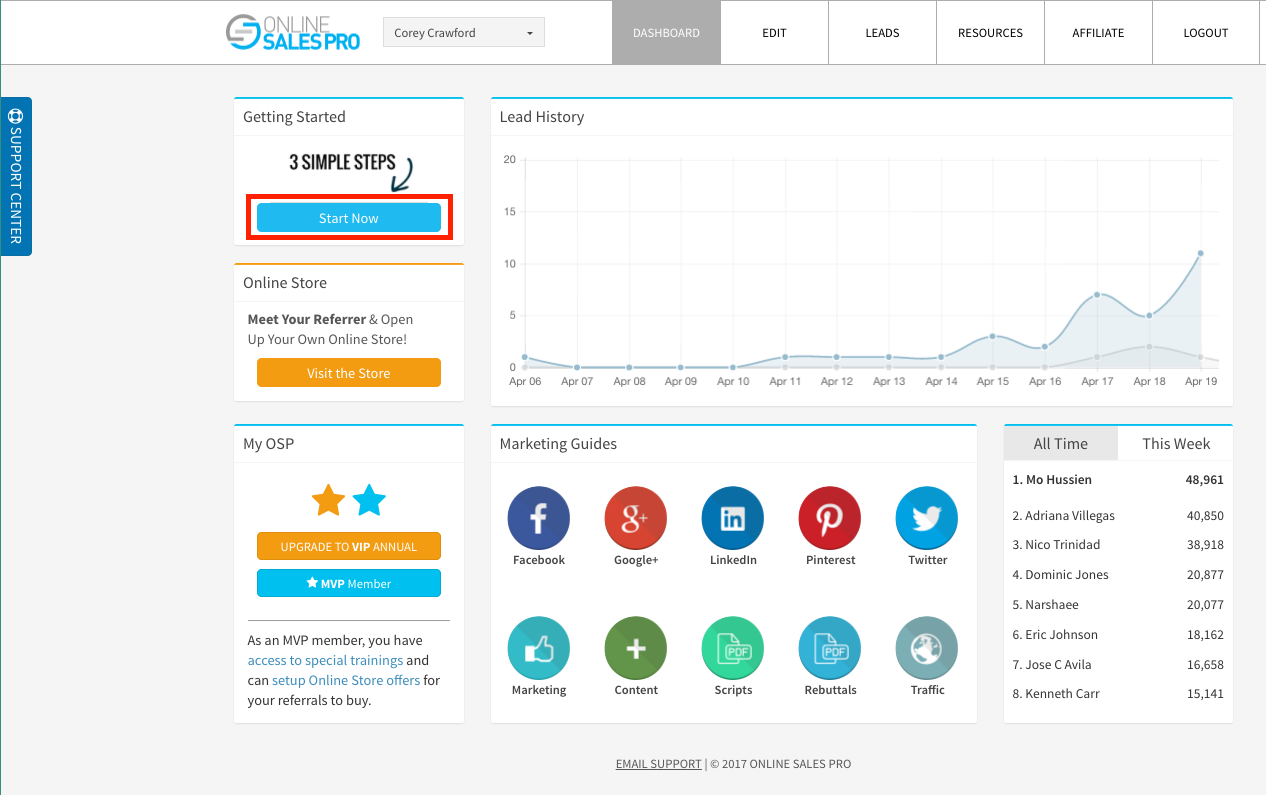 Complete the simple steps to getting started with Online Sales Pro!
Don't Be Shy
Do'ers achieve success. The key is taking Massive Action.